"How I Went From Zero To 4 Million Customers In 30 Days Using The Power Of Joint Ventures...
AND The Exact Step-by-Step Blueprint Of How You Can Replicate This In Your Own Business!"
What would you say if I told you that within thirty days you could have everything you ever needed to get unlimited business with the possibility of making at least £1M within 12 months - with no product or list?
A step-by-step system that puts your business growth on steroids and is fully guaranteed to produce results.
PLUS: Discover how I went from "Zero to 4 Million Customers In 30 Days" ... READ ON FOR THE WHOLE STORY...
Introducing The "Joint Venture Blueprint" — The Step-by-Step Easy Joint Venture System That Created a 7 Figure Joint Venture...
If you are looking to really accelerate your business. There is a solution — a simple and proven one. It's called my "Joint Venture Blueprint".
JOINT VENTURE BLUEPRINT
Choose this if you want to learn how to implement a basic JV System.
If you don't know my story by now, I built a multi-million pound business using just joint ventures and then lost it ALL during the recession!
After spending time looking at my options and armed with just the knowledge of doing "high-level" joint ventures in my own previous business I set myself a challenge to make £1 Million pounds within 12 months using just joint ventures.
Within 30 days I located a joint venture partner without even having an initial product or list and created my biggest 7 figure joint venture to date with a company that has over 4 million customers!
What's Included In The Joint Venture Blueprint?
THE FULL "NO HOLDS-BARRED" JOINT VENTURE BLUEPRINT
Below is what you will receive in this package...
A video DVD, audio mp3 CD and printed transcript of me revealing how I did 6 and 7 figure joint ventures LIVE at Mark Anastasi's Millionaire Masterclass - people paid over $2,997 to attend this event!
The step-by-step blueprint of my million pound joint venture
A 70 page manual on how to create and make money from your own joint ventures from start to finish
ALL the letters, templates and agreements you will ever need
A 30 min strategy session call (worth $147/&pound97)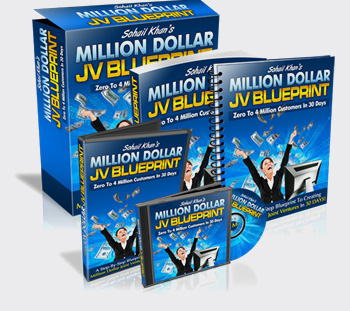 THE "REAL" POWER OF JOINT VENTURES
Let me make sure you understand what Joint Ventures and Joint Venture Brokering can do for you! Joint Venture brokering is not a very difficult concept to understand. Just imagine an orchestra. Surely, such an ensemble wouldn't be able to play marvellous music without the conductor.
The conductor simply brings all the band members together and commands them how to proceed with a masterpiece. The conductor doesn't have to play any musical instruments; he just needs a good working knowledge.
The appeal of JV brokering lies in the fact that you can actually earn millions of dollars by being one without having to create your own product, without having to employ any marketing strategies, and more often than not, without having to invest anything financially!
The good news is, you're probably a lot closer to success than you think. Often it's just a tweak that will dramatically increase your momentum, your sales and your overall profits.
I have learned what works... and what doesn't. I have taken the time to test strategies. I've learned what mistakes to avoid and have assembled valuable information in such a way that it will prevent you from making the same mistakes!
Just read the AMAZING testimonial below:
"Makes me more interested in doing joint ventures"
I bought your JV Blueprint yesterday and I must say your story is very inspiring, which now makes me more interested in doing joint ventures. I've just enrolled onto your JV Consultant's Certified Program and look forward to earning 6 and 7 figures this year!
- Kim Tran
Use my expertise to your advantage by avoiding making costly errors that can be easily prevented!
What Investment Do You Have To MakeFor The Joint Venture Blueprint?
So here's the deal: The Joint Venture Blueprint package costs just$197 or £131 and includes 1 DVD, 1 Audio MP3 CD, printed transcript, million pound joint venture blueprint and 70 page Joint Venture manual.
I agree that's a significant amount to pay, but when you consider just one of the elements of the JV Blueprint package could easily make you 6 or 7 figures... your risk of getting a return on your investment is minimal. But it's a risk nevertheless. So here's how we completely eliminate your risk and put all the risk on our shoulders...
The Joint Venture Blueprint Better Than Money-Back Guarantee
We guarantee that as long as you implement everything in the JV Blueprint you will at least double your return on investment in 60 days or less.
If you don't we'll give you an instant and courteousrefund of the entire package!
I think you'll agree that's as fair as we can be and demonstrates the belief we have in our JV Blueprint package to deliver real results for you.
Howdo I get started with the Joint Venture Blueprint Program?
Very simple... just click the Buy Now tab below and we will ship out your JV Blueprint package to you for just $197/£131!
What if I'm not ready?
Even if you decide this program does not fit your needs at the present time, I provide business owners with a 60-minute Intensive Session.
My commitment is to provide you with a detailed consultation to help you identify areas where you can improve your business. This is not a sales pitch and there is no obligation with the 60 minute Intensive Session. Call today to schedule your 60 minute session: 858 206 3784 or click here.
JV Millionaire Seminar
Register for the 'Joint Venture MILLIONAIRE' Seminar:
'How To Make 7 Figures Using The Power Of Joint Ventures!'
Next Seminar Date: To Be Announced
Learn how I went from losing everything to leveraging a zero-cost million pound joint venture to acquire 4 million customers in JUST 30 days!
How YOU can make unlimited income and pocket 6 or even 7 figures in just 12 months using the power of Joint Ventures.
How to APPROACH potential JV partners and secure 6 and 7 figure deals in just 30 days!
Also get a totally FREE copy of my '7 Figure JV Blueprint' just for attending (worth $197).
The Joint Venture Millionaire Seminar is only $97 with limited places, pre-register your interest by filling in the form for the next seminar:
Joint Venture Millionaire
Register Here:
Limited places available!
"What I heard at your Joint Venture Millionaire seminar, has got my head spinning & my brain bouncing with ideas & possibilities that you have revealed here. There are so many ways this information can be used, in many different markets .. plenty for everyone. I'm off now to compile my own plan of attack using your splendid JV methods".
Peter Cairney
Cairney Marketing